Huguenot Street Cooperative Nursery School
Welcome to the Huguenot Street Cooperative Nursery School
The Huguenot Street Cooperative Nursery School is a non-profit, non-sectarian, cooperative school for children ages 2-5. It relies on parents, teachers and students to work together and participate in every aspect of the school. The cooperative model brings us all closer together to create a dynamic and enriching learning experience for the children.
Who We Are and Our Mission
The Huguenot Street Cooperative Nursery School is a non-profit, non-sectarian school for children ages two through five. The nursery school is a cooperative school in which the parents share in the responsibilities of ownership by contributing time, knowledge, and experience to the program and by helping the nursery meet its expenses through a tuition fee.
The goal of our program is the enrichment of each child's preschool experience through the development of self-expression and motor skills, and through the encouragement of good habits like sharing, listening, and cooperating with others.
As a cooperative nursery, the school is committed to the concept that by actively participating in the classroom, the parent experiences the mental, social and emotional development of his or her child and that this mutual experience contributes significantly to the growth of the child, of their own family life, and of the schools.
Our program is varied, flexible, and informal which allow time for both individual exploration and for group experience. The growing child needs some direction, some guidance and LOTS of LOVE. We feel that the merger of parent and teacher attains this.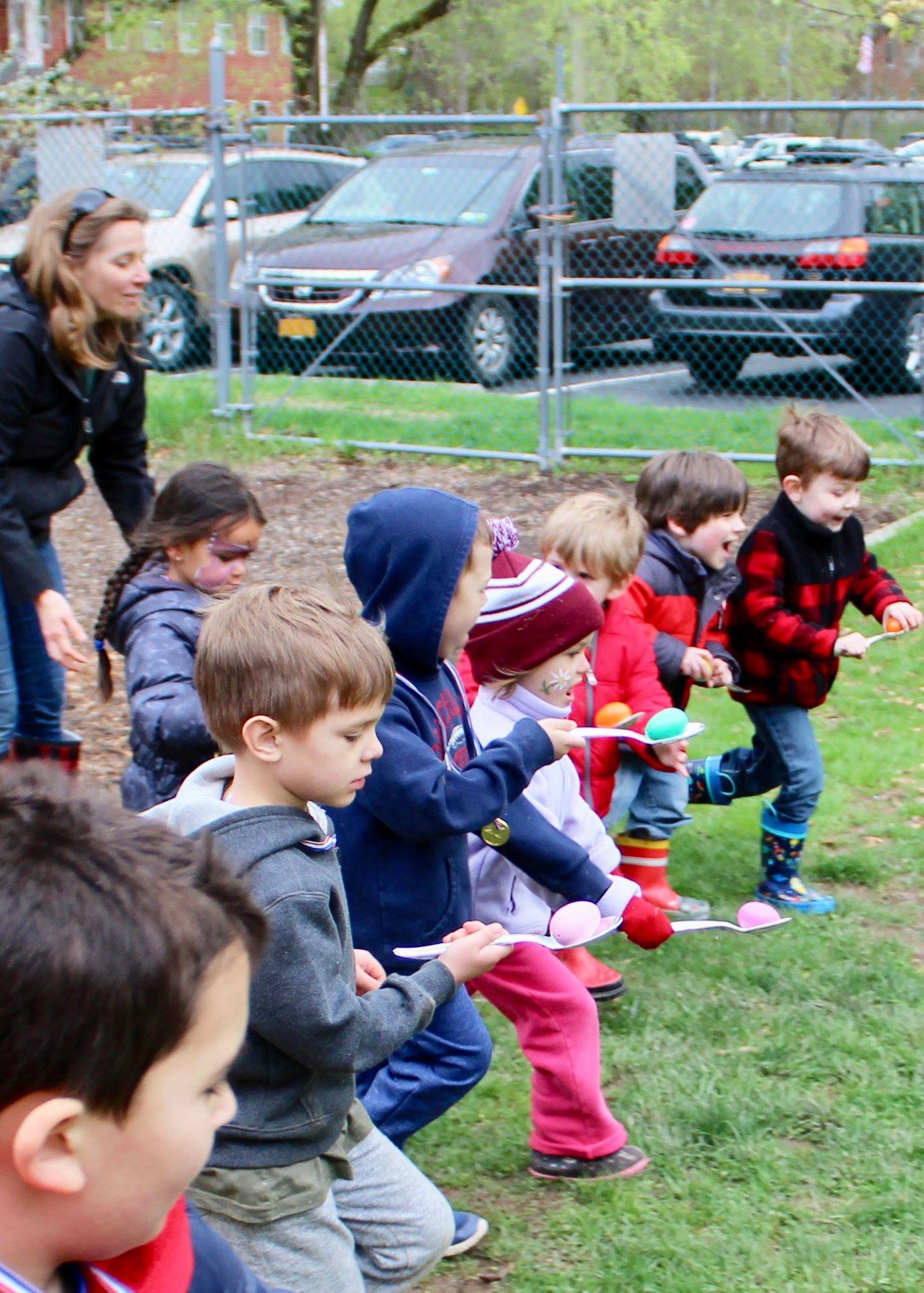 Shannon Powell
2 & 3 Year Old Teacher
Shannon is a graduate of Wallkill Senior High School and lifelong resident of the area. After graduating cum laude from Mount Saint Mary College in Newburgh with focus on Psychology and English, Shannon began to work in Children's Services in Newburgh, helping children, parents and families find resources to meet their needs. While completing graduate courses in Social Work at Fordham University, Shannon worked in the Newburgh Central School District as a school-based counselor for early education students. She then continued work with families, schools and the community working with Child Protective Services in Dutchess County.
Both of Shannon's children have attended HSCNS; during their enrollment Shannon served a number of roles on the school board.
"As a parent of children who have completed the cooperative school model, I have seen what an asset a personalized nurturing, loving preschool environment is for child development".
Shannon resides in New Paltz with her husband and children, as well as an array of rescue animals and pets.
April Taylor
3/4 Mix & 4 Year Old Teacher
Originally from Long Island, April relocated to the Hudson Valley in 2001 to complete her undergraduate degree in Art Education at SUNY New Paltz. After graduating summa cum laude and receiving her New York State teaching license in Art PreK-12, she returned to SUNY New Paltz for her graduate work in Educational Studies under the program Humanistic and Multicultural Education. This coursework was "fascinating and the most useful to me" of all of her studies, April says. April has worked with children all of her adult life, at summer camps, teaching swimming, teaching art in Wappingers CSD and at Highland Cultural Arts Studio, but most importantly, April spent six years working in a Headstart program with Astor Services for Children and Families as a lead preschool classroom teacher in a Special Education inclusion model.
Both of April's children graduated from HSCNS and she has been an active participant on the board throughout her time at the school. She frequently subbed for both classroom teachers and truly enjoyed being an integral part of all of the children and family's preschool experience.
April resides in Highland with her husband, children, and their fur baby.